Cloud storage is a growing need for individuals and businesses alike. Choosing the correct plan for you or your business from the vast sea of choices, however, can be quite the daunting task. So, in this IDrive vs CrashPlan review, we'll take a look at two prominent cloud storage services, and compare them on various metrics, such as price, package types, security, usability, and benefits.
IDrive vs CrashPlan – Overview
IDrive Overview
A fairly well-known cloud storage service developed by Pro Softnet Corp, IDrive is trying to make its mark standing among the behemoths of the industry. And it has done a fairly good job holding its own. IDrive is a great choice for those who need a simple, fast, and cheap solution to keep data backed up and secure.
Unlike IBackup, Pro Softnet Group's other product, IDrive is aimed at individuals or small businesses needing simple mirroring backup storage options. This is certainly not the best choice for enterprise users with a lot of data to manage.
Recommended read: IDrive Cloud Storage Service Review
CrashPlan Overview
CrashPlan is one of the huge names in the cloud storage industry, and its fame is well-deserved. It is known as a powerful backup solution used to protect your data from crashes and other possible issues with your device or device storage. Starting October 2018, CrashPlan for Home Service will no longer be available, the company focusing exclusively on businesses.
They offer unlimited storage options and great security as their main selling points. As a backup option, they get the job done really well. This does admittedly fall short of IDrive, which offers 5 GB of cloud storage for free.
Recommended read: Crashplan Cloud Storage Service Review
IDrive vs CrashPlan – Prices & Features
IDrive Pricing Plans
| | | |
| --- | --- | --- |
| Plan | Price | Storage Allotment |
| Basic | Free | 5 GB |
| IDrive Personal | $69.50/yr or $52.12/yr (first year discounted) | 2 TB |
| IDrive Business | $99.50/yr or &74.62/yr and up (first year discounted) | 250 GB – 12.5 TB |
CrashPlan Pricing Plans
| | | |
| --- | --- | --- |
| Plan | Price | Storage Allotment |
| CrashPlan for Business | $10/month | Unlimited |
If you were to look at it simply from a price per GB standpoint for an individual user, CrashPlan is the clear winner in the pricing category with unlimited plans starting at the low price of $10 per month. IDrive's plans are quite costly by comparison but may offer other advantages to be discussed in later sections.
IDrive vs CrashPlan – Security
The security features of IDrive and CrashPlan are quite a bit different. IDrive offers 256-bit AES encryption for all file transfers and on storage. You can also create a private key for further encryption. This does set iDrive security above other competitors.
CrashPlan offers a more secure 448-bit encryption system with a private key option also available. The CrashPlan data centers are similarly well-guarded, with military standards in place to keep the physical drives away from those who may want to snatch them.
IDrive vs CrashPlan – Additional Features
IDrive offers plenty of cool cloud storage features. The iDrive backup mobile app gives you access to your data anywhere you are. They also have an automatic file syncing feature that enables you to designate files to keep track of and automatically back up when changed. This is useful for those who sync documents. There is also a hybrid backup option, enabling you to mirror your cloud backup to a local storage device, making your files even more secure.
File sharing and social media is also a huge part of IBackup, with the ability to automatically back up your Facebook and Instagram photos and videos and even share directly to those platforms from inside the app. Similar interoperability is also available with Office 365 users.
CrashPlan does what it does, backup. That's about it. That being said, it does have a mobile app to give you on-the-go access, local backup options, versioning support, and deleted file recovery. While this may not seem like a lot, they do what they do well, choosing to focus on file backup rather than on flashy things like social media integration or file sharing. They also notably do not integrate with other apps, including File Explorer in Windows. Admittedly, this may be a turn-off for some users.
IDrive vs CrashPlan – Pros & Cons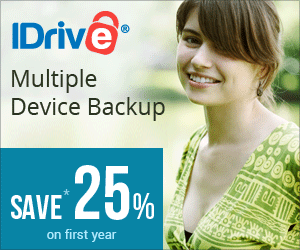 IDrive Pros & Cons
Pros
Social media integration;
Good speed and performance;
No limits to the number of drives you can back up;
Cons
Expensive;
Limited storage;
CrashPlan Pros & Cons
Pros
Fast data transfer;
Extremely secure;
Set it and forget it capability;
Cons
No real exciting extra features;
Verdict
CrashPlan is a clear winner for those looking for a premium storage plan for their business. They offer excellent transfer speeds, industry-leading security, and unlimited storage with all available plans. The only real discernible downside is the lack of a free cloud plan, whereas IDrive offers 5 GB for free. IDrive's social media, file explorer, and Office integrations may also be something that appeals to certain users. But for those who are looking for a simple backup solution with great security and amazing cost per GB (it doesn't get much better than unlimited), CrashPlan is an excellent choice.